Cat lovers are warmly invited to our 2023 cat show held at Queen Margaret University, Musselburgh on 16th September 2023.
Visiting The Show
If you'd like to visit the show no pre booking is necessary. Tickets are available at the door on the day of the show from around 12.30pm. This is when the show opens to the public. Entry ticket prices to be confirmed.
Maggie's Bar & Cafe is adjacent to the hall for refreshments.
Meet Cat Breeds And Breeders
Maine Coons, Siamese, Persians and more! You can see these and other breeds on the afternoon of the show. Many breeders/owners are available in the show hall to talk about their cats. It's a good opportunity to find out more about the various breeds, particularly if you are thinking of buying a pedigree kitten in the future. Plus, if you're thinking about showing your cat you can see first-hand what's involved.
Entering Your Cat or Kitten
The 2023 show schedule and entry form will be available to down load from mid June 2023. Help is offered to first time exhibitors. Please contact our Show Manager, Sally Woolrich or Assistant Show Manager, Jo Edwards in the first instance on edinburghcatclubshow@gmail.com. Judging begins promptly at 10am. Exhibitors are encouraged to arrive in good time to allow for vetting-in (7:30/8am). All cats must be vaccinated against FIE, FVR and FCV. Cats being shown in the Household Pet section must be neutered at 6 months regardless of whether they are pedigree or not.
Shopping And Trade Stands
There will also be trade and charity stands at the venue offering a range of cat-related and non cat-related products to buy plus a tombola and raffle. If you are a business and would like to find out more about taking a trade stand, please contact the Show Team on edinburghcatclubshow@gmail.com Donations for the tombola and raffle in the form of gift vouchers or goods are gratefully received. We can arrange collection if near one of our Committee Members or alternatively please bring them along to the venue first thing on the day of the show.
Volunteer Helpers Needed On The Day Of The Show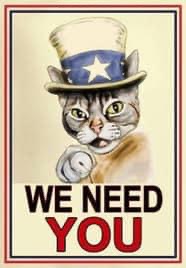 The committee relies on a team of volunteer helpers to assist with various tasks throughout the day of the show. Offers of help for all or part of the day are welcome. Find out more by contacting the Show Team on edinburghcatclubshow@gmail.com
The venue – Queen Margaret University in Musselburgh – is located just off the A1 Southbound near Newcraighall. There is a free large car park right by the Sports Centre. The number 30 Bus takes you straight into the Campus. Trains from Waverley Station stop right by the University and is only a 6 min journey.
https://www.qmu.ac.uk/location-and-getting-here/
We look forward to seeing you!